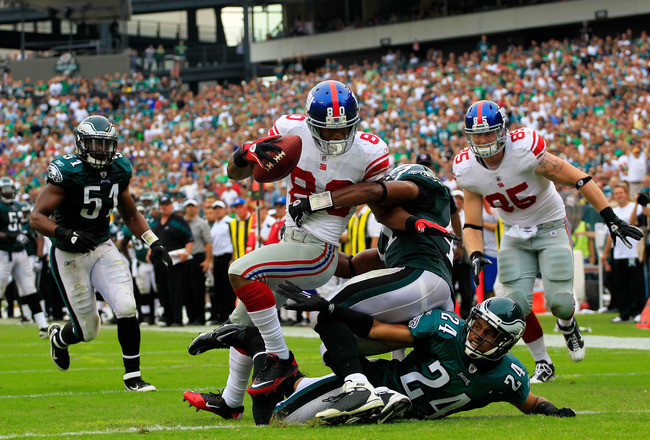 In the long, storied history of the NFL, only a handful of UMass alumni have truly made an impact in the league. The earliest, Greg Landry, was a former All-Pro and Pro Bowl quarterback in 1971, after being drafted eleventh overall in 1968 by the Detroit Lions. He went on to have a successful career and now ranks second of all time on the Lions career yardage list, and second on the Lions career leaders in touchdown passes.
Another was the late Milt Morin, drafted fourteenth overall by the Cleveland Browns as a tight end in 1966. More recently, Marcel Shipp and James Ihedigbo of Northampton both went undrafted and quietly made a name for themselves, with the latter still making plays in the NFL, now for hometown team, New England Patriots. Now, Victor Cruz has a chance to add his name to that list, but to be even better.
After having a sensational career as a Minuteman, including All-American and All-Conference accolades, Cruz went undrafted in the 2010 NFL Draft, despite being highly touted for running crisp routes and having excellent hands. Following the draft, the New York Giants decided they liked what they saw in Cruz and gave him a shot to make the team, signing him as an undrafted free agent. In Cruz' preseason debut on Monday Night Football against the cross-town rival Jets, Vic gave an awe-inspiring performance by reeling in six catches for 145 yards and three touchdowns. One of his scores came courtesy of a stunning one-handed grab down the sideline, which even left the announcers speechless.
Cruz' debut even got Super Bowl winning head coach Jon Gruden to say "A star is born…this kid's got everybody's attention".
Unfortunately for Cruz, after his stellar preseason, his regular season was cut short three games in after sustaining a hamstring injury during practice.
Now in 2011, Cruz got another chance to show why everyone got so excited in the first place. After the Giants number two receiver, Mario Manningham, suffered a concussion in Week 2 against the Rams, Cruz was called to action the following week to face the extremely formidable Eagles secondary. Cruz caught his first official NFL pass eight yards off the line of scrimmage, and proceed to take care of the rest as he went 74 yards for a touchdown, eluding two Eagles defensive backs and making them collide in the process. His second career catch came shortly thereafter, as he out-jumped and out-muscled perhaps the best cover corner in the NFL, Nnamdi Asomugha, in hauling in his second touchdown of the day in another impressive play.
Four weeks into the season, Cruz has gone for 225 yards receiving and ranks tied for fifth in the NFL with two touchdowns. He has all but solidified himself as the number three receiver with the Giants, and has proved himself to be a reliable target for Eli Manning.  Granted, Cruz still has a lot of room for growth and is still just 24 years old. However, the future looks extremely bright for this receiver from UMass, and he could feasibly blossom into a perennial impact player year in and year out.
Tyler Galicia can be reached for comment at [email protected].