12 teams that can win the 2012 World Series: the Atlanta Braves
Also see:Other entries from "12 teams that can win the 2012 World Series."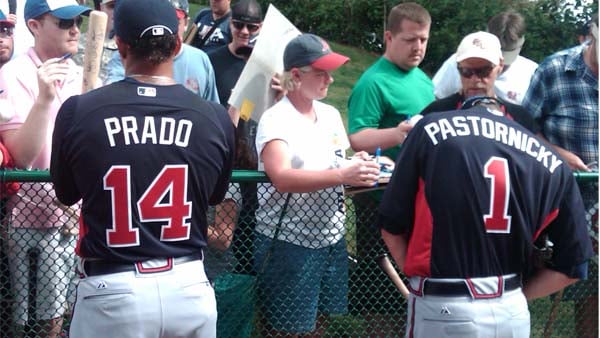 2010 record: 89-73 (2nd in NL East)
Run differential: +36
Key additions: none
Key losses: Alex Gonzalez, Brooks Conrad
Most people focused their attention on the improbable September collapse by the Boston Red Sox, but the Braves pulled off a memorable debacle of their own.
They missed the playoffs last season by dropping 18 of their last 26 games, and blew a 10.5-game wild-card lead in August.
While the Braves did nothing in the free agent market to improve their team this offseason, I still believe they are one of the best teams in the National League.
Tim Hudson (215 innings pitched, 3.22 earned-run average), Tommy Hanson (130 IP, 3.60 ERA), Jair Jurrjens (152 IP, 2.96 ERA), Brandon Beachy (142 IP, 3.68 ERA) and Mike Minor (83 IP, 4.14 ERA) anchor a stellar 5-man rotation for the Braves.
This provides an excellent blend of veteran experience and youthful eagerness.
Prospects Randall Delgado and Julio Teheran are waiting in the wing, and available to start if anyone gets injured – certainly not improbable considering the injury history of Hanson, Hudson, and Jurrjens.
In addition to the solid starting pitching, the Braves have arguably the best bullpen in the majors.
2011 Rookie of the Year Craig Kimbrel closes games for the Braves, Jonny Venters and Eric O'Flaherty provide the bridge to Kimbrel, while Kris Medlen, Arodys Vizcaino and Anthony Varvaro stabilize the middle innings for Atlanta.
Venters, Kimbrel and O'Flaherty were three of the best relievers in all of baseball last year.
Venters recorded a 1.84 ERA and he struck out 96 batters in 88 innings, Kimbrel recorded 46 saves and posted a heinous 14.8 strikeout per nine rate, and O'Flaherty posted major league leading 0.98 ERA.
However, many have criticized manager Fredi Gonzalez for overworking his young relievers. Venters appeared in a major league leading 85 games, and Kimbrel appeared in 78 games. Braves fans have to hope that Gonzalez' liberal use of the rotation wont hurt them in the future.
As good as the pitching was, it was the offense last season that did the Braves in.
There are no major upgrades to the lineup or guys returning from injuries. Atlanta is simply hoping the poor seasons from Martin Prado, Jason Heyward and Dan Uggla were a product of bad luck.
After proving to be one of the most underrated players in baseball, Prado flopped in 2011. He killed the Braves at the top of the lineup recording an on-base percentage of .302. After hitting over .300 in his last three seasons he hit just .256 thanks to his .266 batting average on balls in play. I fully expect Prado to bounce back this season.
Heyward, Atlanta's savior and prodigy, had his sophomore slump last season. He was unable to hit left-handed pitching, and Gonzalez's asinine toying with him did nothing to help his struggles.
Gonzalez's managerial decisions greatly factored into his team's collapse. The worn down bullpen ruined multiple games in September, and instead of having Heyward in the lineup every day, he opted to go with Jose Constanza, who did weird things like in the video below.
As long as the starting pitching performs again, the relievers make it to the end of the season with their arms still attached, and Prado bounces back and Gonzalez trusts Heyward, the Braves will be one of the best teams in baseball.
Jackson Alexander can be reached for comment at [email protected]